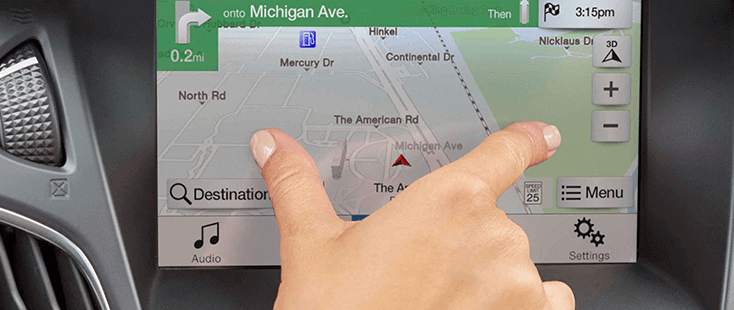 Stay Connected and Entertained With FORD SYNC Technology
Ford SYNC technology helps you safely stay in touch and entertained while driving. Using your voice alone, it's possible to do many things - from making and taking mobile calls to finding nearby events and listening to your favourite music.

The new SYNC 3 System has built on this capability, adding familiar tap and swipe gestures found on smartphones, enhanced voice commands and increased functionality. It's all designed to help you keep your hands on the wheel and your eyes on the road.
Already a SYNC owner? Owner support is the place for you.
Ford SYNC

The Ford SYNC System lets you make and take hands-free mobile calls, read out texts you receive, and control the music on your MP3 music player using your voice. Its AppLink* feature gives you voice control of popular Apps for Android and iOS. Listen to audiobooks, get the latest football scores from goals.com, find nearby events and hear your Spotify favourites. Ford SYNC also features Emergency Assist which contacts the Emergency Services automatically in the event of an accident and provides essential information such as your coordinates. **
Ford SYNC 2

Ford SYNC 2 with Voice Control and Touchscreen has the addition of a crisp, clear 8" colour touchscreen for intuitive control of key functions including phone, audio, climate control and optional navigation via voice or touch. Note: SYNC 2 doesn't feature AppLink.
Ford SYNC 3

The latest and most advanced version of SYNC enhances the functionality and convenience of SYNC and SYNC 2. A new interface features larger buttons to give you swift access to the information you want.

The 8" Touchscreen now features pinch-and-swipe gestures found on smartphones and tablets for even more intuitive navigation. And along with AppLink, Ford SYNC 3 also connects with Apple's CarPlay and Android Auto.
Bigger, faster, clearer

The refreshed interface is even easier to navigate around. Crystal-clear buttons are larger to make accessing information easy and accurate. Combined with smartphone gestures navigation becomes quick and intuitive. SYNC 3 is up to 10x faster than SYNC 2, so whether you tap, swipe or speak, you'll enjoy a high-speed performance.

Apple CarPlay and Android Auto

SYNC 3 lets you connect your Apple or Android smartphone to your car. Instead of the SYNC 3 interface on the 8" Touchscreen, it will display the familiar screen of your Smartphone. Navigate and control your Apps using the buttons, dials and touchscreen in your Ford, or by using simple voice commands. Access maps, music, texts and more in whatever way you find most comfortable. It's also possible to dictate and send texts and have them read aloud to you when they arrive.
Email or Call MeBook Appointment
Please note: Full SYNC 3 smartphone integration only available with iPhone 5/Android 5.0 (Lollipop) or higher. Some SYNC 3 functions require a data connection, so mobile data charges will apply. To check whether Apple CarPlay and Android Auto are available in your market, please check official Apple CarPlay and Android Auto websites for the latest information.* Compatible mobile phone required. Check mobile compatibility here. You can browse a list of Ford AppLink-compatible apps here, or via the Ford App Catalog available in iOS and Android stores** Ford SYNC with Emergency Assistance operates in over 30 European countries. This feature works when paired with a compatible connected mobile phone that is with you when an airbag is deployed (excludes knee airbags) or a sensor that registers a crash deactivates the fuel pump. Text function and Ford SYNC with Emergency Assistance not supported by all European languages.